CLEAR SPACE TRANSFORMATIONS
Before
When my client was downsizing to 600 square feet, she asked: "Where am I going to put my stuff?"
After
This elfa solution disappears on the wall allowing keepsakes and gorgeous plants to be featured.
Before
This blank canvas needed furniture and decor that measured up with the view without overpowering it.
After
We used curves and circles to soften the architectural backdrop. These swivel chairs are perfect for entertaining or watching the sunset.
Before
This teen's closet was minimally structured leaving a lot of dead space.
After
By reconfiguring the space, we were able to have millworkers create a column of shelving without reducing the needed hanging space.
Before
A small bathroom needs clever vertical storage.
After
These stacked shallow cabinets from IKEA offer tons of storage with an unassuming profile keeping toiletries within easy reach.
Before
My client's collection of earrings needed dedicated storage but space was tight.
After
I found these earring frames on Etsy providing great use of vertical space keeping them in easy reach and in view
Before
This odd closet needed to provide triple duty: drawers for a teen's clothing, linens and seasonal hanging. The challenge was to keep the the left side panel accessible.
After
We added removable hanging rods on the left to keep the panel clear. Millworkers installed upper shelves and lower drawers on the right to make the best use of this deep space.
Before
This space was supposed to be an office but served as a catchall space for storage.
After
By decluttering and outfitting the closet and one wall in this room with elfa shelves, the piles were removed creating an office filled only with my clients favorite colors and all of her books.
Before
My client was frustrated by the height of the top cabinets and drawers behind doors made it too effortful to find what she needed.
After
Another gorgeous Laren solution from The Container Store made this space much more functional. This traditional style was a better match to the rest of her decor.
Before
In the same room as the last photo, these closet doors were nearly impossible to move as they not only fell off the tracks, they were solid wood and weighed a ton.
After
Designed to coordinate with the other wall, these closets lighten up the room and added more hanging space with easier access.
Before
This master bedroom was crying for storage and style as there were only two small his and hers reach-in closets and no decor plan.
After
By adding these IKEA units, lush draperies and silk headboard, this master bedroom is the perfect cocoon for rest.
Before
This wide hallway between the master bedroom and bath was the perfect space for a passthrough master closet.
After
My clients were thrilled with these gorgeous Laren closets by The Container Store. Maximizing the high ceilings offered plenty of room for clothing and all of their luggage.
Before
This clever shallow cabinet built into an old doorway had mirrored sliding doors that crumbled and cracked. It was a challenge to know what was behind them since they only could see one side or the other at a time.
After
We toned down the walls to a pretty sage and added a punch of color to the shelves. The bifold mirrored door gives full access and white containers keep everything in order.
Before
This closet was packed full and needed room for coats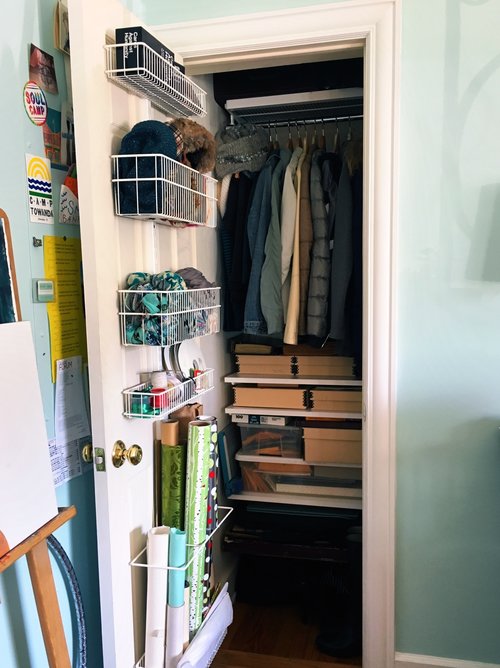 After
By designing a new elfa closet interior, we were able to utilize the height of the closet for long term storage. This left plenty of room for coats below while still offering shelving for more often used items.
Before
This beautiful and tiny working fireplace was further diminished with a wall that was too close plus super high ceilings.
After
By removing the wall, the slate fireplace became the centerpiece of the room. Continuing the same shade of dark gray up the chimney draws your eye up in space and magnifies the hearth as larger than it really is.
Before
Whenever I see a four foot pile of stuff around the perimeter of a room I know it's the perfect place for some built-ins.
After
Another beautiful Laren closet from The Container Store saves the day with a beautiful and functional design.
Before
This client needed more room for her business files and needed to create functional order in this dismal basement storage unit.
After
Elfa shelves, clear storage bins, and a great indoor/outdoor carpet make this space easy to access and easy on the eyes.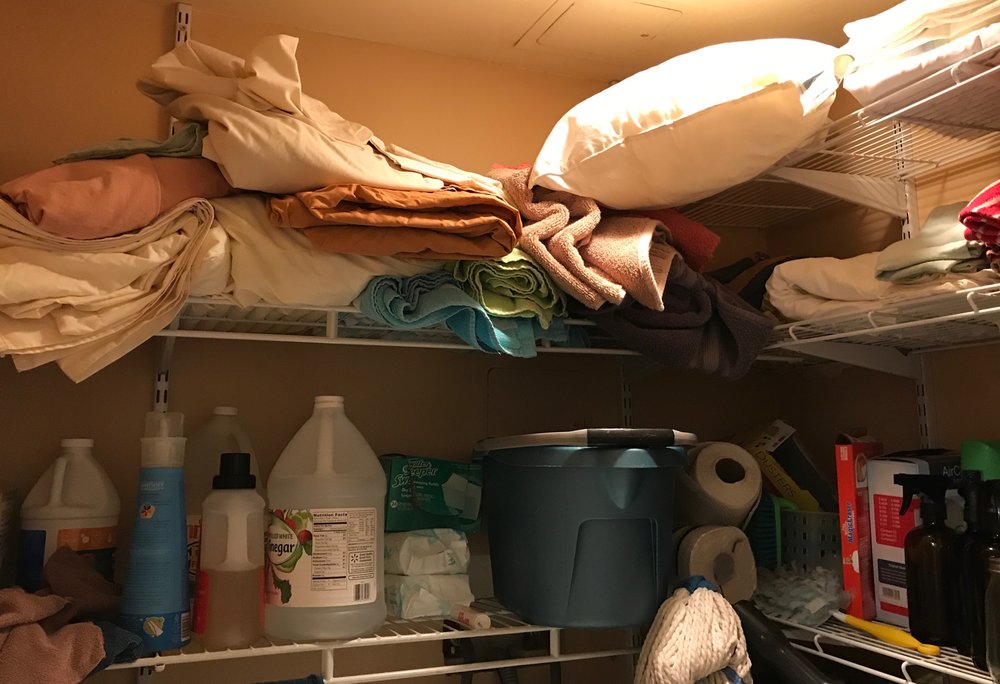 Before
These shelves were often a mess as linens were hard to reach and keep organized.
After
After categorizing the lines and cleaners, they become much easier to access in boxes. This simple solution keeps things tidy.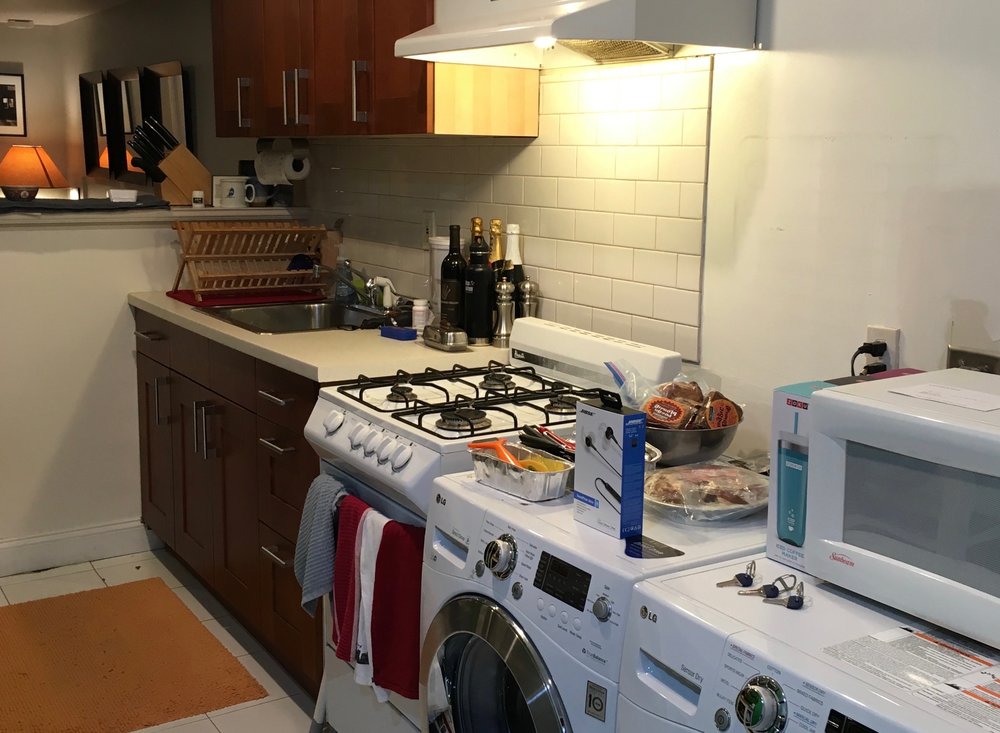 Before
This disjointed kitchen had no counter space which forced my client to use the top of the washer and dryer. He was looking for a functional and beautiful solution.
After
Drawers for lower cabinets and horizontal uppers provided better functional storage. A uniform countertop not only protects the washer & dryer, it makes the space cohesive.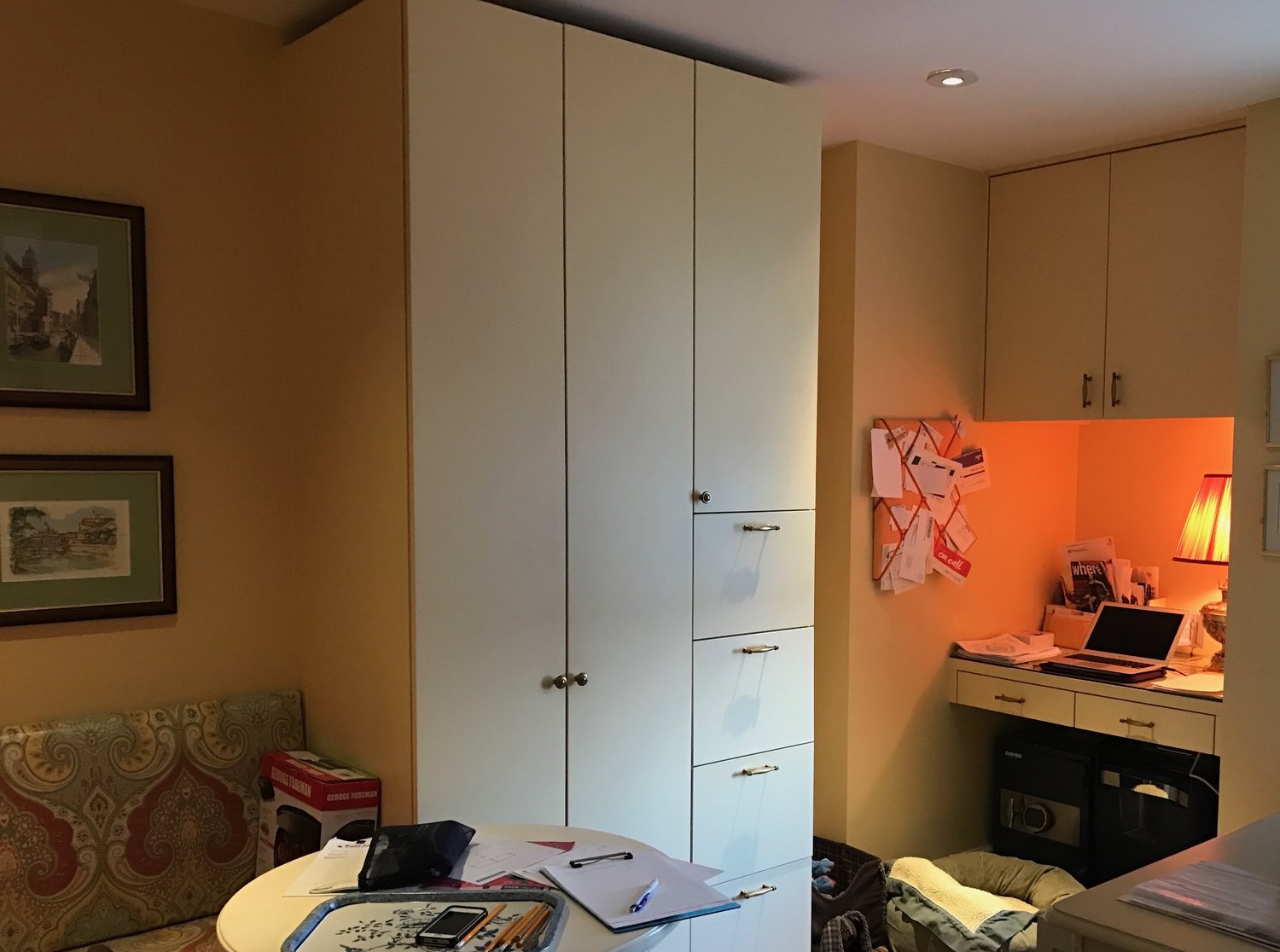 Before
My client had to walk by a storage cabinet she barely used to access her desk that she used daily. The workspace was awkward and too small for her needs.
After
By swapping locations and tailoring the built-ins to her needs, my client was able to get her hands on more important papers with plenty of storage space out of the way.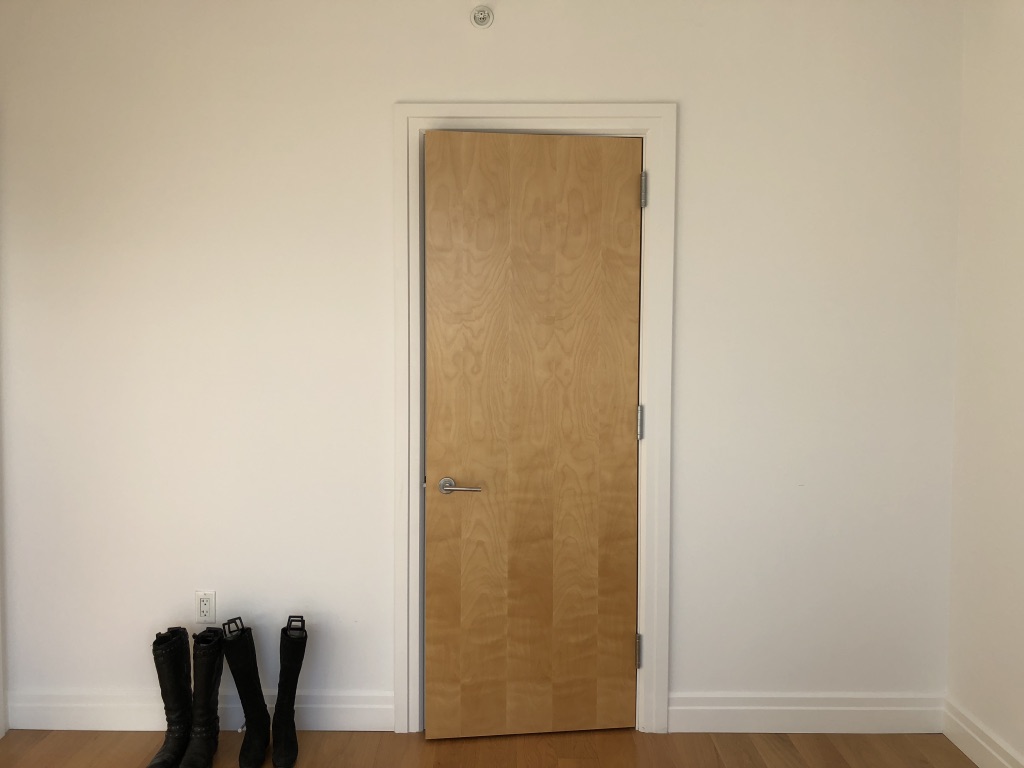 Before
When this is the only closet in the room, where do you put your sneaker collection?
After
More elfa shelves create a perfect display and who couldn't use a few extra drawers.